Yolanda is a qualified regional and environmental planner with extensive knowledge and experience ... more
Vernese is an environmental management and policy specialist with more than fifteen years experience ... more
Service Category: LEGAL REVIEW

Client: Private Entrepreneur

Description: It was proposed to develop approximately 53 acres of land at Holder's Plantation primarily for exclusive homes, catering to the offshore market. The design concept focused on the creation of an estate with residential lots approximately one acre in size. This estate was to be developed in accordance with facilities for luxury housing in Barbados. These facilities would include but not be limited to underground utilities, wide roads, sidewalks, and restrictive covenants to ensure that all structures are consistent with the overall design concept and environmental standards for the area.

Challenges: The main challenges related to (i) maintaining road gradients between 1:100 and 1:10 to ensure good road drainage; and (ii) determining the size and capacity of the drainage scheme based on the proposed development, existing development or the current regulatory standards, whichever was greater.

Ecoisle Solutions: Conducted a slope analysis and a topographical assessment, incorporated soil classification information and assessed ecological factors. This information was then used to inform the overall design concept for the development.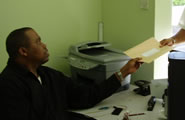 LEGISLATIVE REVIEW
Documents produced as part
of the Legislative reviews and institutional capability assessments for Hazard Mitigation In Belize, Grenada
and Saint Lucia